Interesting Dublin birthday ideas
Do you have any ideas for a birthday present for a friend or member of your family? Allow us to assist you!
Irish Dance's Origins and History
What we think of as "traditional" Irish dancing today is actually just a small piece of a much larger story that spans generations.
Blogging about Dublin hen party activities
Any lady worth her salt will have a hen party. It's an opportunity to glow in the limelight, reunite with loved ones, and enjoy yourself thoroughly.
Our goal is to make arranging your hen party as simple as possible. That's why we made this checklist of all the things you absolutely must complete before the big day.
The Ultimate Guide to Arranging the Perfect Dublin Girls' Night Out!
Girls' night out is a tradition that dates back quite a while. It's a chance for ladies to let loose and have some fun together...
Just how did hen parties grow throughout time?
To have fun with the bride's female friends and family members before the wedding is to have a hen party. In addition to including them in the preparations, this event offers a chance to...
The Best Five European Spots for a Hen Party
There are a lot of fun destinations in Europe to choose from for a hen weekend. However, if you want your vacation to be exciting and memorable, try visiting one of these five places.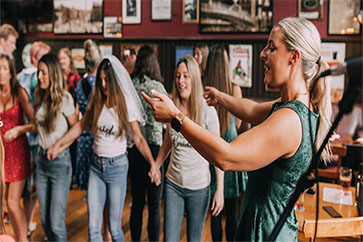 How do people in other countries celebrate hen parties?
A hen party is a great way to spend your last night as a single woman before you get married and start your new life. You can have an adventure in any one of the unique places around the world.
Dublin's The Merchant's Arch is a must-see attraction
Dublin is a massive attraction for visitors visiting Ireland. It's a great destination to visit, live, or work, and it also has a rich history and culture. Dublin is well-known for its attractiveness, convenience...
BOOK YOUR TICKETS
Adults: €25 per person
(Groups over 10 persons €22)
Students: €15 per person
Local language school students: €12 per person.

Voted one of the top 5 hen party activities in Dublin by the White Pages Wedding magazine
Need Tickets?
Book your table today and get ready to have some craic