Blogging about Dublin hen party activities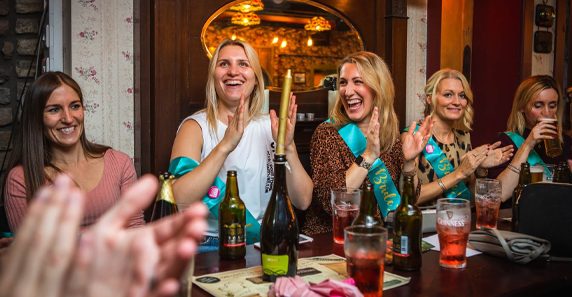 Ideas for a memorable Dublin hen party?
Any lady worth her salt will have a hen party. It's an opportunity to glow in the limelight, reunite with loved ones, and enjoy yourself thoroughly. However, arranging a stag do may be just as hectic.
Have no fear! We will always support you. For a hen party that everyone will be talking about for years to come, check out the advice in this article.
Having a one-of-a-kind experience is key. Dublin is packed with amazing attractions, but how do you choose? Browse our Dublin stag and hen activities today!
Rejuvenating and Refreshing Party Suggestions
Beauty Spa
Beauty salon
Swimming pool
Go get a massage, facial, or sauna treatment to pamper your body. In addition to helping you unwind, this will also benefit your skin's health. Take your pals and book an appointment at a spa where you can get the pampering you've always wanted. After getting a massage or being rubbed with creams and scrubs, you can relax in the pool. Spas like "Oasis Beauty," "Viola Day Spa," and "Allure Beauty and Spa" offer similar services.
Ideas for a themed party
A common source of entertainment at stag weekends is Irish music and dancing. One of the best hen party ideas in Dublin is "The Irish Dance Party," a night of traditional Irish music and dancing performed by award-winning musicians and dancers. Live Irish music and choreographed dances will leave guests in amazement, and the performers will even teach the guests some basic steps so the dances can be performed at other events. The Irish Dance Party is held on the second floor of a lovely historical building in Temple bar, with a view of the river Liffey and the famous Ha'penny bridge. Enjoy your favourite drink in a picture-perfect Irish environment while celebrating your hen party.
There are moments when you wish you could visit a period in history that you have never experienced before. The theme of "Breakfast at Tiffany's" is a great choice for a romantic hen party. Wear your best classic gown and have a cup of coffee with some pastries. If you're a girl who isn't afraid to stand out, go for the 80s look. Get a bouffant, get some neon-coloured tights, and hit the dance floor. Great places to try this out are "Howl at the Moon" and "Vintage Cocktail Club V.C.C."
You can hire a magician to perform at your event. This is fantastic for doing at home or in a restaurant. You should have a magician perform for your guests on your big day. The stag and hen parties in Dublin are a speciality for certain magicians. Simon Ryan, the Magician, is a Huge Hit in Dublin. He has been entertaining for years. This is a fantastic chance to wow your guests.
Things to do outside
Whiskey degustation is when you try different kinds of whiskey and compare and contrast how they look, smell, and taste. It will be a lot of fun for you and your best friends to do at your hen party. And while you're in Dublin, you should go to the Irish Whiskey Museum, which is one of the most popular tourist destinations. You can make your own whiskey there, and you can also try Irish whiskey and other drinks.
One of the most well-known customs associated with Britain is the habit of drinking tea. And if you're looking to keep with hen party traditions, here are some lovely places in Dublin to sip tea and enjoy the Irish sunshine: Iveagh Gardens, Botanic Gardens, Howth Summit, and the Grand Canal are all lovely options for an afternoon or evening picnic.
Fans of canoeing and kayaking, here's a wonderful plan for your perfect day out on the water. Paddling along the calm waters of the River Liffey is the best way to view Dublin and take in the sights of the Irish city while taking advantage of the pleasant weather. There is a trip available on a Kayak called "Experience Dublin by Kayak" that can show you a side of Dublin that you've never seen before.
There's also the option of doing absolutely nothing, like booking a hotel room, stocking up on champagne and ice cream, and spending the night in bed watching movies. Spending a lot of money or having a packed schedule of activities is not necessary for an enjoyable and unforgettable hen party. The focus should be on the bride's enjoyment of the day and the company she keeps.