Dublin's Irish Evening Show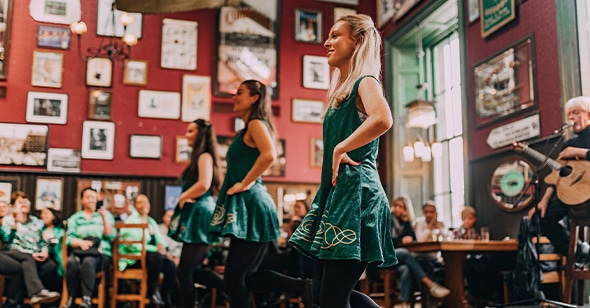 One of the most well-liked tourist sites in Ireland is Dublin. There are many activities to do in the city while you're there, and it's a terrific destination if you're searching for some adventure.
The magnificent city of Dublin has a lot to see and do. Without ever becoming bored, one might easily spend days touring all the different districts.
There are numerous scrumptious eateries, bars, and cafés in Dublin. The city's greatest eateries are often found in or nearby the city centre. Dublin nighttime performances are particularly fantastic for those who wish to get a close-up look at Irish culture.
Where to go out for a night in Dublin
Ireland's capital city is Dublin. It is a bustling city that is rich in culture and history, making it ideal for travellers. You may get a drink, listen to wonderful music, and meet people from all over the world at a variety of pubs. If you want to do something different from what you're accustomed to, Dublin's Irish vibe may be the perfect opportunity!
What comes to mind when you think of an Irish evening? Irish dance and music? A couple of beers and some good times? An actual Irish bar? Or even regional dishes from the four regions of Ireland. Whatever it may be, our Dublin location will provide you with a once-in-a-lifetime experience and enable you to fully experience Irish culture.
The Irish Dance Party is a real Irish evening in the center of Dublin that transports you around Ireland with its beautiful fusion of music and dance. Enjoy your dinner and a two-hour performance of the finest Irish music with singing, and dancing
A memorable evening of singing, dancing, and music
With all the music, song, and dancing you can manage, the Irish Dance Party will take you on a trip through the finest of Irish culture. When you visit Ireland, you'll experience hospitality unlike any other.
This is your one and only chance to spend the evening in one of Dublin's most historic pubs listening to and dancing to live music performed by some of the city's most talented musicians.
Visitors from all over the world may join in on Ireland's rich musical tradition at the Irish Dance Party, which provides a one-of-a-kind and genuine experience. Traditional Irish music, song, and dance are performed by some of Ireland's finest musicians and dancers. At the end of the show, the musicians will stay for another two hours to play live at the Merchant's Arch Pub. Have dinner and then stay for a two-hour entertainment showcasing the finest in Irish music, singing, and dancing at The Irish Dance Party!
Don't miss out on a night of genuine Irish culture at the Irish Dance Party in the heart of the city. Traditional music and song will be performed, and there will be lots of opportunities to learn some new dancing techniques that you won't soon forget.