Step into the Fun: The Joy of an Evening Show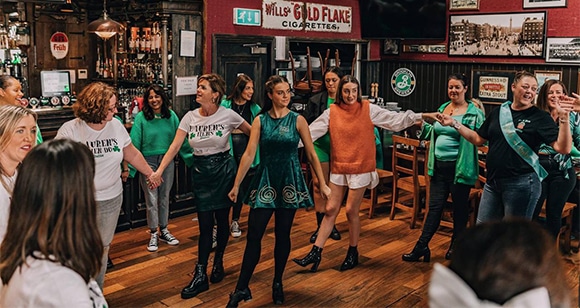 If you're after a touch of Irish culture to liven up your event, be it a corporate bash, a birthday celebration, or a hen party, The Irish Dance Party can tailor a show to suit your needs. They're a dynamic bunch of performers who specialize in showcasing the very best of traditional Irish music and dance, along with contemporary Irish dance and music.
The Irish Dance Party provides not only entertaining shows but also interactive and educational experiences, offering a unique cultural immersion that appeals to audiences of all ages and backgrounds. A visit to the Irish Dance Party in Dublin is a must-do experience for those who want to indulge in the traditional music, dance, and culture of Ireland. This much-loved attraction has been wowing guests for years with its high-energy performances and immersive atmosphere.
Upon arrival at the Irish Dance Party, you'll be welcomed by friendly and enthusiastic staff who will get you into the swing of things. The party takes place in Merchant's Arch, which is a cosy and intimate venue that fosters a sense of closeness and camaraderie between performers and the audience.
All in all, the Irish Dance Party is an unmissable experience for anyone visiting Dublin. Their evening show is a unique and enjoyable experience that will leave a lasting impression. Whether you're an experienced dancer or just looking for a fun night out, the Irish Dance Party is a must-see.
The Irish Dance Party is committed to providing the highest quality entertainment for their clients, and their attention to detail and professionalism have won them a dedicated following. They are passionate about preserving and promoting Irish culture through music and dance, and they take pride in sharing their craft with new audiences.
One of the highlights of the Irish Dance Party is the chance for audience participation. You'll be invited to join in traditional Irish dances, with the performers giving you step-by-step instructions and plenty of encouragement. Even if you've never danced before, you'll find yourself caught up in the energy and excitement of the evening.
So, if you're seeking a unique and unforgettable evening experience, join in the craic with the Irish Dance Party. Whether you're a lifelong fan of Irish culture or simply curious to learn more, you'll be swept up in the joy and excitement of this one-of-a-kind show.